$10 Gold Eagle Liberty Head Extra Fine XF (Random Year)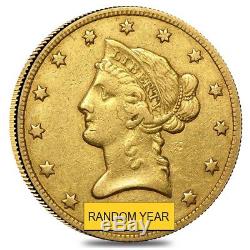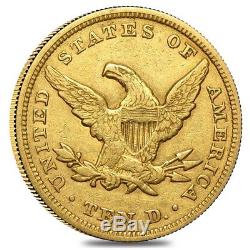 90% & 40% US Silver Coins. 900 purity, the design and size of these coins may vary.
Some coins reportedly, have been found without the "IN GOD WE TRUST" banner on the reverse, above the eagle head. These coins besides numerous other US gold coins that date before 1933, are rare now owing to the fact that a huge volume of such coins were melted on executive order of then President Roosevelt.
It started out to stop hoarding gold, and quickly escalated, leading to criminalization of possessing gold. Due to scarcity of these coins, they have numismatic value associated to them. Revered to be a collector's item, these coins are also used as heirlooms.
Available in both raw and graded form, these coins come in variable sizes and designs. Another variant of this coin that was minted during 1838 and early 1839, which had the coronet of the liberty head closer to one of the stars, on the obverse.
Its intrinsic value is way higher than its face value now, but their comparative values were quite close, at the time of minting for the first time. Eligible for Precious Metals IRA. Extra Fine XF ­ Very light wear on only the highest points.
Obverse - Features a liberty head facing towards the left designed by Christian Gobrecht. Her hair are tied in a bun and rest are secured with beaded strings, with "LIBERTY" inscribed coronet on her head. Thirteen stars encircle the subject with each star representing US colonies. Year of mintage is mentioned at the bottom, between first and the thirteenth star.
Reverse - Features the iconic great US seal, with a bald eagle sporting a shield with its wings fully spread. An inspiration from US Seal, the heraldic eagle is holding three arrows and olive branches in its talons. Features "IN GOD WE TRUST" banner on top and encircled with the denomination, and "UNITED STATES OF AMERICA" inscribing. Dates will be chosen randomly and are determined by our available inventory on hand. Mint from the following mints: Philadelphia, Denver, Carson City, San Francisco, or New Orleans. Possesses high collectible value because of age, design, and significance. Has investment value due to its bullion content. Potential to fetch a high premium depending on the condition of the coin and its scarcity. These coins are considered heirlooms and collector's items, hence there is a protection from seizure by the United States Treasury by Law. Precious metals like gold have a base value which does not change over longer duration of time, despite volatility in shorter durations. Investing in Gold Eagle Liberty Head coin can be a good decision considering the fact that not many of these coins in extra fine condition are in circulation. These are relatively rare coins as pre­-1933 US gold coins were melted in huge numbers. These coins have a very good chance of fetching high premium value above gold spot price owing to its numismatic value. Like all of our other gold coins, this one is guaranteed to be 100% authentic. By purchasing from Bullion Exchanges, you are agreeing to all of our Terms and Policies.
Bullion Exchanges reserves the right to refuse or cancel any order reviewed by our Compliance Team, which are deemed questionable or have increasing potential risk for being fraudulent. All customers are subject to a review at our own discretion, in which additional information, identification and/or documentation, may be requested. A prompt response would help expedite the fulfillment of your order. Packages are no longer insured if the tracking information shows the package is delivered.
We will only be liable to cover packages that are lost in transit or damaged. There are no exceptions to this policy. Once an order is placed, it cannot be modified or cancelled. Using high definition digital video, we record the packing of our products to affirm accuracy. Bullion Exchanges reserves the right to refuse or cancel any order reviewed by our Compliance Team, which are deemed questionable or have potential risk for being fraudulent.
The submission of an order and subsequent receipt of a confirmation locks in your order and affects our metal hedging requirements and thus we are unable to make any price adjustments. Our in-house numismatist staff assign conditions to all products.
The condition assigned to the products is derived from industry-wide standards. Please keep in mind that most images are stock images, and therefore you should not expect to receive the pictured products.
Silver products, and some gold as well, may exhibit milk spots, and/or toning, which are normal and do not change the condition described in the listing, nor the value of the product. Coins that are holdered by one of the major grading companies are graded based on the condition they were in at the time of grading.
However, at times, coins do tend to develop spotting or toning which are a normal happenstance in coins. Please keep in mind, the appearance of the toning and/or milk spots does not mean that the coin is not the grade specified on the actual slab. In instances where there is a discrepancy where the customer believes to be unjust, please refer to the grading companys guarantee policy.
Both NGC and PCGS have a program where they will compensate the owner of the current coin if they believe the coin deserves a lower grade than it had originally received. Please note, bullion coins, bars and rounds are mass-produced and are not struck to the same quality standards as collector coins. These bullion products are not certified and therefore will not always be 100% perfect. All sales are final and therefore in cases when a product is offered on a Deal Price, previously locked-in orders for that product will not be subject to price reductions or cancellations. Bullion Exchanges reserves the right to cancel sales that may or may not have typography issues within the listings, pricing inaccuracies, systematic faults by our system, and/or errors caused by eBays system, without further notice. Purchasing bullion and/or coins involves price risk, and the purchaser assumes all such risk. We do not offer or make price adjustments based on the market fluctuations of precious metals, or for any other reason.
We will never ask the customer to pay more for a product if the price significantly increased, so please refrain from requesting price adjustments after market prices decrease. The item "$10 Gold Eagle Liberty Head Extra Fine XF (Random Year)" is in sale since Friday, November 10, 2017. This item is in the category "Coins & Paper Money\Bullion\Gold\Coins".
exchanges" and is located in New York, New York. This item can be shipped to United States. Mint
Country/Region of Manufacture: United States
Coin: US Pre-1933 Gold Bullion