1/4 oz Australian Florin Gold Coin, 2021 0.9999 Fine Gold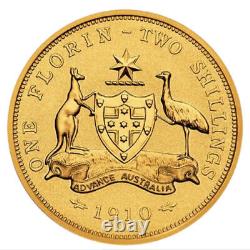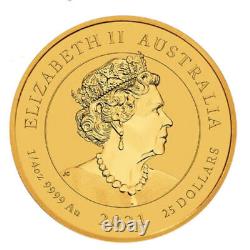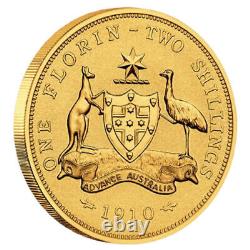 The 1/4 oz gold florin is a new fixed mintage coin released by the world-famous Perth Mint, in honor of the very first florins minted in Australia 100 years ago. Way back in 1344, England's King Edward III ordered the first florins minted to further confuse England's traditional monetary system of at least 11 different denominations based on 240 pennies per pound sterling. Over the centuries, the florin spread across the world and was recognized virtually everywhere. Then, in 1963, the British gave up on their traditional and idiosyncratic coinage and adopted a more reasonable 100-pennies-per-pound standard.
Unfortunately, this rendered some truly wonderful coins obselete overnight. Perth Mint has rescued the florin from the dustbin of history and released a fully-modern gold coin. And what a coin it is! The 2021 Australian 1/4 oz gold florin, up close and personal. The obverse side features the first Australian Commonwealth Coat of Arms, depicting an emu and a kangaroo on a grassy mound propping up a shield underneath the star of the Australian Federation.
The shield bears the Cross of St. George on the front along with five stars representing the Southern Cross constellation by which settlers used to navigate the seas towards Australia. This is the same design first minted on Australia's florins way back in 1911.
The reverse side of the coin shows Jody Clark's instantly-recognizable fifth portrait of Queen Elizabeth II, once called the new definitive Britannia. This portrait shows an aged but regal monarch wearing the King George IV diadem and the Diamond Jubilee earrings, as she would when addressing Parliament. At a quarter of an ounce, these gold florin coins are small, highly portable, and present excellent opportunities for bartering in precise measurements. They also offer investors more flexibility than larger coins or bars when it comes to diversifying investments, allowing you to acquire multiple different gold coins or other assets to hedge against risk. At the same time, a 1/4 oz coin comes at a lower premium to the spot price of gold than coins of smaller fractional weights like 1/10 oz American eagles. With its interesting history, arresting art and compact size, the 1/4 oz Australian gold florin is sure to become a prized part of any coin collection. This coin isn't available just anywhere, look around and you'll see. So if you have your eye on this gold florin, we strongly recommend you avoid disappointment by ordering right now. Has been in operation since 1899, two years before the Federation of Australia was founded. An investment in physical gold offers protection against the risks inherent in paper-based gold or even physically-backed gold ETFs. Your assets aren't vulnerable to "tracking errors" that occur when spot prices and paper-based gold prices diverge, nor could they be hacked or erased in a computer system. You also have the pleasure of storing your gold personally if you wish, holding your coins in your hands, and showing them to friends and family. The aesthetic beauty of gold is not to be underestimated, and this is particularly true for gold coins with superb designs such as this 1/4 oz gold florin. A design that combines a 600-year-old unit of currency with a century-old design from Australia's first florin and a modern obverse. 1/4 oz coin of 0.9999 fine gold by one of the world's most respected government mints. A fractional weight suitable for bartering and diversification. An unlimited mintage creates a liquid market and easy access to these coins.
This item is in the category "Coins & Paper Money\Bullion\Gold\Coins". The seller is "officialbullionmax" and is located in this country: US. This item can be shipped to United States.
Color: Gold
Size: 0.25 oz
Brand: Perth Mint
Thickness: 2.3 mm
Fineness: 0.9999
Material: Gold
Year: Random
Brand/Mint: Perth Mint
Certification: Uncertified
Grade: Ungraded
Country: Australia
Precious Metal Content per Unit: 0.25 oz