2023-W American Liberty Series High Relief. 9999 Fine ANA First Day NGC PF70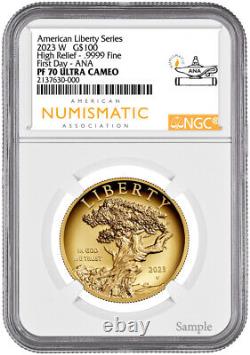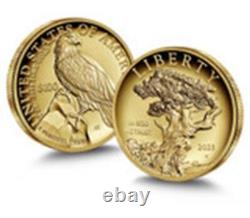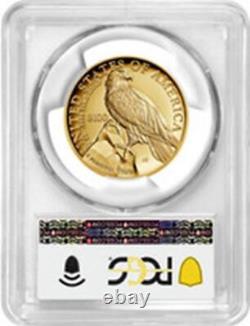 2023-W American Liberty Series High Relief. 9999 Fine ANA First Day NGC PF70. Authorized NGC & PCGS Dealer.
In addition, the coin has been desigated First Day from the ANA show, adding to the coin's collectability. Each 2023 Gold Coin is meticulously minted in one ounce of 99.99% 24-karat gold and showcases high-relief craftsmanship, displaying intricate details with precision. The reeded edge adds a touch of sophistication, while the proof finish enhances the coin's pristine beauty. These beautiful coins have a limited mintage of 12,500. The Proof 2023 American Liberty High Relief Gold Coin will be a beautiful addition to your collection!
Mint/Mint Mark: West Point (W). Diameter: 1.205 inches (30.61 mm). Weight: 1 troy ounce (31.108 grams). Obverse: Features a a bristlecone pine, a species native to California, Nevada, and Utah, thought to be the oldest living organisms on Earth, living up to 5,000 years.
Bristlecone pines grow in places where other plants cannot and are often the species first to repopulate the land after cataclysmic changes, such as a lava run or glacial runoff. Inscriptions are "LIBERTY, " "IN GOD WE TRUST, " and 2023. Reverse: Depicts a young bald eagle standing on a rocky outcropping moments before it takes flight. Inscriptions are "UNITED STATES OF AMERICA, " 1 OZ.
The coin pictured is only a representation of the coin you will receive, not the exact coin (serial numbers will vary). Bullion items and books are excluded.
LCR Coin is Your #1 Source for Certified Gold, Silver a Rare Coins. We are Authorized PCGS and NGC dealers and are also members of PNG, ANA, ICTA, Coin World, and CCE. We are based in Hill Country in the heart of Texas. We are family owned and have been in this business for over 35 years. Thanks to our loyal customers, we have become one of the top trusted destination for Certified Graded Rare Coins, Modern Graded Coins, Gold and Silver Bullion and building Legacy Collections.
LCR Coin is a place where you can safely browse coins numismatically, build Wishlist's, view the coins certification on NGC or PCGS and shop for coins in a fun no hassle way. Subscribe to our monthly newsletter and receive exclusive offers on products.
Ron Harrigal Signed Silver Eagles.