41-42 AD Rare Ancient Gold Roman Empire Coin of Claudius AUREUS NGC CH FINE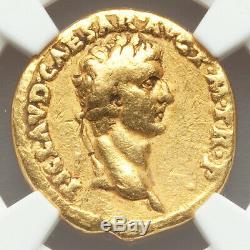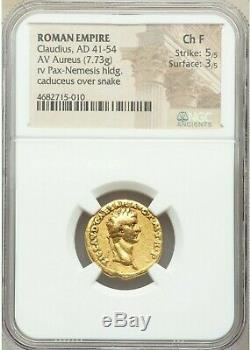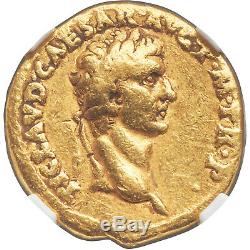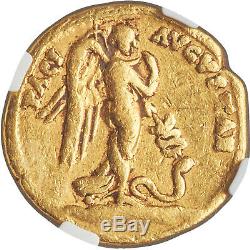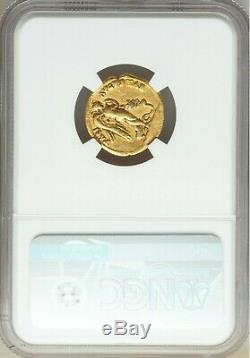 RARE Claudius I (AD 41-54). AV aureus (19mm, 7.73 gm, 4h).
NGC Choice Fine 5/5 - 3/5. TI CLAVDCAESARAVGPMTRP, laureate head of Claudius I right; dotted border / PACI-AVGVSTAE, Pax-Nemesis advancing right, raising fold of drapery below chin with right hand, winged caduceus downward in left pointing at snake advancing right; dotted border.
Hard to find in problem-free state NGC does not note any scratches, cleaning, edge marks, scuffs, brushing, rim filing, bending, ex mount or jewelry, etc. As they do on so many coins of the era This gold aureus bears a wonderful portrait of Claudius, fourth emperor of the Julio-Claudian dynasty. Son of the great general Drusus and Antonia, niece of the emperor Augustus, Tiberius Claudius Drusus seemed well-positioned when he was born in 10 BC. But, a serious childhood illness left him with a limp, a stammer, and other uncouth qualities that made him the black sheep of the family. While these problems barred him from a political career, such exclusion also granted him immunity from the family's murderous intrigues. Upon Caligula's assassination in January, AD 41, Claudius was the sole surviving Julio-Claudian male, and, when members of the Praetorian Guard found him cowering behind a curtain in the palace, they immediately acclaimed him as Emperor.
Claudius astutely awarded the Praetorians a substantial bonus, and with 10,000 heavily armed soldiers backing him, he easily forced the Senate to accept him as the next princeps. Once installed, Claudius surprised everyone by ruling with intelligence and moderation.
In AD 43, he ordered the invasion and annexation of Britain, the first major addition of territory to the Empire since the days of Augustus. He chose provincial governors carefully and managed foreign relations with considerable skill. He erred only in his obsession with detail, his reliance on freedmen and cronies, and his atrocious taste in women. Messalina, his promiscuous third wife, ran wild as Empress and nearly brought down his regime with a sex-crazed conspiracy in AD 48. His next wife, Agrippina the Younger, used her wiles to enhance her own power and advance Nero, her son by a previous marriage, in the succession arrangements.
This done, she fed Claudius a dish of poisoned mushrooms in October, AD 54 and brought his 13-year reign to an end. Despite many missteps and his unsavory demise, Claudius had been a fairly successful ruler and his regime set a pattern for the Flavians and the reigns that followed. The item "41-42 AD Rare Ancient Gold Roman Empire Coin of Claudius AUREUS NGC CH FINE" is in sale since Monday, January 13, 2020. This item is in the category "Coins & Paper Money\Coins\ Ancient\Roman\ Imperial (27 BC-476 AD)". The seller is "silvermangold" and is located in Chicago, Illinois.
This item can be shipped worldwide.
Country/Region of Manufacture: Italy
Certification Number: 4682715-010
Certification: NGC
Date: 41-42
Composition: GOLD
Ruler: Claudius
Denomination: Aureus